Bay City Assault & Battery Lawyers
Understanding Simple Assault and Assault & Battery Charges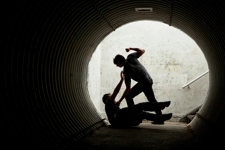 Under Michigan law, simple assault involves the attempt to cause physical harm to another or any threat of action. If you are charged, simple assault is considered to be a misdemeanor offense and can result in penalties of a $500 fine and up to 93 days in jail.
As long as the offender appears to have the ability to commit an act of violence or their actions caused another person to fear impending harm, this is considered simple assault in Michigan.
Battery is considered the actual act of intentional violence or force towards another person. When the threat of violence turns into an actual act of harm, this is charged as assault and battery under Michigan law.
To learn more about how we can provide defense for your simple assault charges, contact our Michigan assault and battery lawyer today!
Is it a Misdemeanor or a Felony Crime?
If the act of assault and battery in Michigan resulted in serious physical injuries to the other person, it is categorized as aggravated assault and battery. In cases where a dangerous weapon was not used, the offense is charged as a misdemeanor. If assault and battery is committed against a police officer, emergency medical responder, or is in the form of domestic violence especially against pregnant women, it can be charged as a felony crime.
Penalties for Simple Assault or Assault and Battery Charges in Michigan
The following are the potential penalties for simple assault or assault and battery in Michigan:
Fines up to $500
Up to 93 days in jail
Probation for up to two years
Financial restitution
Aggravated assault and battery penalties are as follows:
Up to $1,000 in fines
Up to one year in jail
Probation up to two years
Financial restitution
Grand Rapids and Bay City Assault Charge Attorneys With a Track Record of Success
At Gower Law PLC, we fight for the pursuit of justice. We are the people's firm and we stand by our clients from the beginning to the end of their case. Throughout our history as a firm, we have fought relentlessly for the rights of the criminally accused and we treat each client with the respect they deserve.
With a history of successful verdicts and a passion for representing those charged with anything from assault and battery to domestic violence and everything in between in Michigan, let us combat your charges.
Call our office in Grand Rapids or in Bay City for the aggressive defense you need. An attorney will provide you with a free consultation.